Les parelles felices tenen el seu secret
ISBN:9788466410342
240 pages
Published by COLUMNA EDICIONS S.A.
Original language: Catalan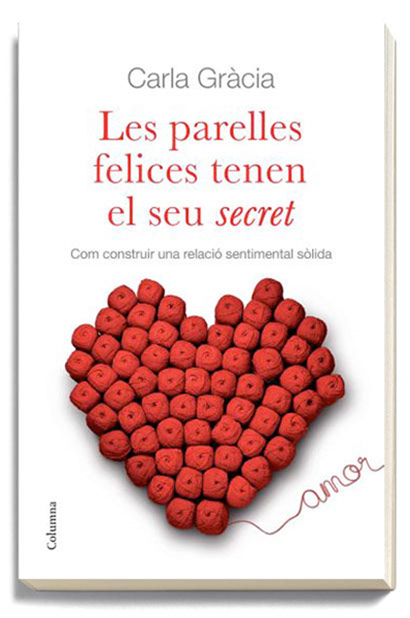 "Hi ha tres tipus de parelles al món -m'advertia ma mare- aquelles que t'agafen el braç quan dones la mà, les que t'agafen el braç curosament per no embrutar-se les mans si estàs enfadat, i les que pregunten si poden agafar-te del braç i caminar junts. La pregunta, deia, és saber quina ets, i si és necessari, tenir el valor per canviar-ho". 
Tots desitgem agafar-nos de la mà i caminar junts quan comencem una relació. Però sovint no és així, les coses s'enreden, ens fem mal i ens sentim tristos i decebuts. Potser deixem que flueixi, o potser no. En tot cas, sabem que hi ha alguna cosa a les nostres vides que sempre es repeteix, errors que sembla que no canviaran mai. 
I un dia ens preguntem: on s'amaga el secret d'una parella feliç? Pels que ja tenen parella, pels que somien tenir-ne, pels que han tirat la tovallola i pels que supliquen, aquest llibre viatja per tots els racons del nostre interior per comprendre i millorar la manera com escollim i construïm les nostres relacions. 
..................................................................................
"Hay tres tipos de parejas en el mundo -me advirtió mi madre- esas que te cogen el brazo cuando les das la mano, las que te cogen el brazo cuidadosamente para no ensuciarse si estás enfadado, y las que preguntan si pueden cogerte de la mano y caminar juntos. La pregunta, decía, es saber cuál eres, y si es necesario, tener el coraje para cambiarlo". 
Todos deseamos cogernos de la mano y caminar juntos cuando empezamos una relación. Pero a menudo no es así, las cosas se enredan, nos magullamos y nos sentimos tristes y decepcionados. Quizá dejamos que fluya, o quizá no. En todo caso, sabemos que hay algo en nuestras vidas que siempre se repite, errores que parece que no cambiarán nunca. 
Y un día nos preguntamos: ¿dónde se esconde el secreto de una pareja feliz? Para los que ya tienen pareja, para los que sueñan con tenerla, para los que han tirado la toalla y para los que suplican, este libro recorre todos los rincones de nuestro interior para comprender y mejorar la manera en que escogemos y construimos nuestras relaciones cada día. 
..................................................................................
"There are three types of couples in the world - my mother warned me - those that when you give them a hand they will take the whole arm, those that take you by the arm carefully not to get dirty if you are upset and those who ask you if they can take your hand and walk together. The question, she said, is to know which of them you are, and, if necessary, have the courage to change.
Holding hands and walking together is the desire we all have when we start a relationship. But many times it is not like this, and things get tangled up, we get bruised, we feel unhappy and disappointed. Maybe we let it be, or maybe not. In any case, we know that there is something in our lives that always repeats itself, errors that seem to never change.
And one day we ask ourselves: where does the secret of a happy couple lie? For those who already have a partner, for those who dream of having one, for those who have thrown in the towel or for those who are just begging, this book explores every corner inside us to understand and improve the way we choose and build our relationships every day.